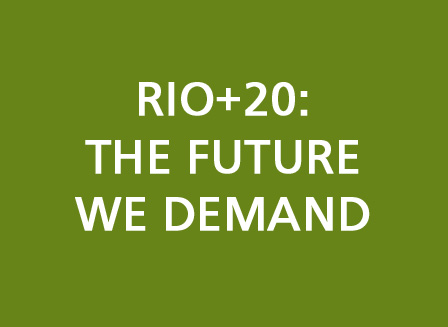 The Future We Demand
Pacific Civil Society Organisations have released an urgent appeal to member states attending the Rio+20 United Nations Conference on Sustainable Development in June 2012. 'The Future We Demand' is signed by local, national and regional organisations and networks and allies, including Pacific Network on Globalisation, Fiji Women's Rights Movement, Pacific Conference of Churches, and DAWN.
The statement calls for strong political leadership, and urgent action toward real and transformative solutions. 
The statement reaffirms the Rio Principles and Agenda 21, and highlights the fragility and resilience of Pacific island 
states, 

and a strong call for results at Rio: "The future that the peoples of the Pacific demand in solidarity with 
others around the world, 

is one of social justice and human rights for all, and a recognition of the need to balance
the three pillars of sustainable development–environmental, 

social and economic sustainability."
For more on this article please read the Full Pacific Statement on this link: CLICK HERE

If you would like to endorse this statement, please send your details to noelenen@gmail.com by May 31, 2012