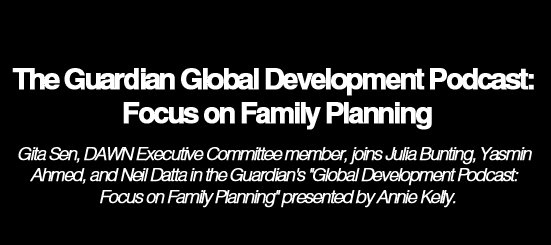 Gita Sen joins Julia Bunting, Yasmin Ahmed, and Neil Datta in the Guardian's "Global Development Podcast: Focus on Family Planning" presented by Annie Kelly. Issues tackled include what are at stake in the debates in the global summit on family planning in London on 11 July 2012.
Access the original podcast on the Guardian website:
http://www.guardian.co.uk/global-development/audio/2012/jul/02/global-development-podcast-family-planning
Visit this
PAGE
for more resources on DAWN's analyses.
Visit DAWN's FACEBOOK page