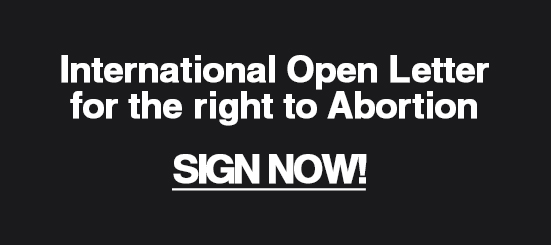 Along with other young feminists from various countries, Nathali Margi from the My Body is Mine Campaign team, has written a letter to defend abortion rights at an international level, especially during the forthcoming UN negotiations (Cairo + 20, post-MDGs, 5th World Conference on Women).
*They need your signatures, and your help in circulating this appeal to your networks!*
The open letter will be published in newspapers in just a few days, on *September 28, 2012*, at the occasion of the *Global Day of Action for Access to Safe and Legal Abortion*. They are aiming to gather as many signatures of feminists from different countries as possible, in order to show our UN representatives that abortion rights are a struggle that we are also mobilizing around at an international level!
You'll find the open letter in English in this link: http://www.dawnnet.org/uploads/documents/Appeal%20Urgency%20Abortion%20ENG.pdf
To add your signature, please send the following information to
mybodycampaign@gmail.com:
Last Name, First Name:
E-mail:
Country:
Member of organization (optional):
Please note that the list of signatories may be published on media and the web. All signatories are individuals, not organizations.