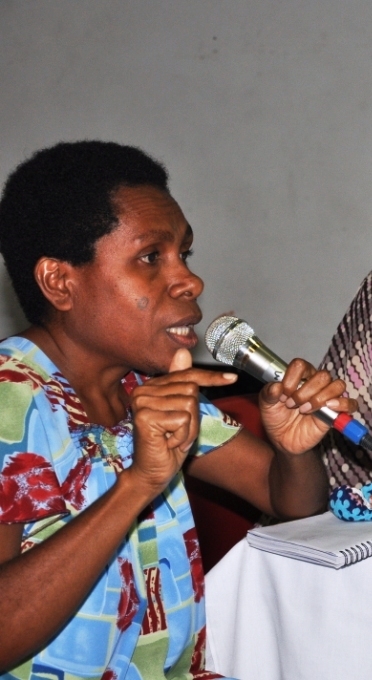 "There will come a time when you believe everything is finished. That will be the beginning." Louis L'Amour
In what was thought to be the end of a six months legal battle in Madang between the indigenous people of Raicoast and Chinese-state owned Metallurgical Corporation (MCC), the matter took a different turn when Louise Medaing filed proceedings to continue this battle forcing the court to extend the March 19 interim injunction to October 15, only 45 minutes after it was lifted.
As MCC and Highlands Pacific walked out smiling and satisfied that the matter has reached a successful conclusion, Louise Medaing pleaded through his lawyer to extend the injunction until he be heard and it was granted.
As if this was not enough on Tuesday October 5th, Vanimo Green MP and former Minister for Forest Mr Belden Namah announced his plans on FM 100 Talkback Show to support the DSTP matter in Madang. Currently a member of the ruling party the National Alliance, Mr Namah is challenging the amendment to the Environment Act which came as a result of pressure from the ground against MCC's plans to dump mine wastes in the sea. The amendment removes people's rights to take legal action against the company if there are damages to their environment and where their livelihood is threatened.
The story of the DSTP matter started back in 2007 when three humble men from Raicoast had sought to prevent MCC from dumping millions of mine tailings into the untouched pristine waters of the Basamuk Bay. In March this year Sama Mellambo joined for himself and his incorporated land group bringing the number of plaintiffs to five.
On September 1, twenty one days before trial Sama Mellambo, through a newspaper advertisement, withdrew himself and his incorporated land group claiming he has achieved his goals by being part of this matter. However, the initial three plaintiffs showed no course of stopping even though attempts were made already to stop them.
As Judge David Cannings handed down his decision to grant leave of withdrawal for the remaining three plaintiffs he expressed that their withdrawal on eleventh hour was suspicious as to whether they were threatened, intimidated or bribed. He expressed that while the courts were greatly inconvenienced as other important matters were set aside to make time for this case, the plaintiffs had the right to withdraw under the rule of law. Judge Cannings also refused Louise Medaing's application to join this matter WS 202 of 2010, however ruled that Louise has a genuine claim and could file a new case if he wished to. Louise Medaing did not waste time and filed suit that same afternoon.
Back to that final hour as Madam Luo Shu carried her shoulders high and walked away with her staff smiling and shaking hands with their friends and lawyers for their achievement, other people of Raicoast rose up with Louise Medaing, to show their frustration of the decision. They question, "did they really loose?" "But we never even got a chance to be heard," said one councillor from Raicoast. "They didn't let us," he said.
So the DSTP matter takes a new turn as Louise Medaing files new proceedings and holds up the interim injunction for another 14 days when he gets to be heard on October 15. In so doing Louise and his clan members have been receiving threats of intimidation but this is not stopping him.
To add to these intimidation tactics the latest is that Louis Medaing receives a letter from his clan members removing him as spokesperson for their clan. "So what if they distance themselves from me. This fight is for them too and they will not stop me."
Other members from Raicoast who have taken a step forward to support this matter have also received threats. In a letter dated 18 September 2010, James Gau, newly elected MP for Raicoast threatens seven councillors who have put in supporting affidavits. In the letter he said, he would support council president to get a lawyer to file suit against them for breaching the MoA.
This pointed the councillors to now calling for the authorities to make the MoA available. The councillors are not aware of what is in the MoA nor that they are party to the agreement.
Others working at the Basamuk refinery have also been faced with some sort of forms they have to sign to declare their non-support of Louis Medaing.
Well it seemed history is repeating itself in Papua New Guinea as this legal battle was ending on Friday September 24th at 4:30pm when Judge David Cannings let the three plaintiffs drop the case and lifted the interim injunction which prevented the construction of the marine tailings system.
In 1994 the indigenous people in the Ok Tedi area of Papua New Guinea's remote Western Province took Australia's mining giant BHP Billiton to court over anticipated environmental disruption as a result of mine activities in the area. Hours before this trial ended the plaintiffs pulled out accepting an out of court settlement.
With the DSTP matter, although out of court settlements were discussed with the plaintiffs in Madang, they showed no course to stop the battle at that time. However, their five hour trip by dinghy to Madang to be present at the court was made difficult as their route was heavily guarded preventing them from travelling. As they made it into Madang town under armed police escort at about 8pm on Saturday 18th, three days before trial they felt their lives threatened even more.
This legal battle had been running for the last six months as the government, the company and the regulatory body colluded to make sure the mine was developed giving no thought to the environmental and social concerns raised by the people.
For instance in Kurumbukari, a village of 200 people was disrupted as they were issued with PGK500, a 15-metre tarpuline, some nails and hammer and told to go and set up temporary shelters on their sacred mountain. In addition rice, tinned fish, tinned meat, sugar, instant coffee and powdered milk were supplied on a fortnightly basis until these people started harvesting their gardens.
This practice of issuing tarpulines, nails and hammer is repeated along the pipeline as groups of people must be displaced to make way for the slurry pipe.
At the Basamuk, a cemetry was destroyed and remains dumped in the sea to make way for a sulphuric plant.
These induced grievances on a group of people come with no warnings and the government is not willing to deal with. Instead it sends members of parliament or the police to calm things down.
Raicoast is accessible by land based transport system however, government services have not sufficiently reached this part of Madang since independence 35 years ago. Thus creating the need for such services and a mining company seems to be the answer to their development aspirations. However, September 24th's decision in court pushed aside these aspirations as the people showed life is greater than what is being offered to them.
They maintain that they have made attempts to stop the company from coming onto their land since 1999 but have been restrained due to their financial capacities. And when they learnt that other Raicoast people are taking on the matter they supported. "The court room will not be able to hold us all," said another Raicoast man. Maing Kunning from Mindire village had come forward to join WS 202 of 2010 in April but since there were already five plaintiffs he was asked to support from the outside. Ten other councillors from Astrolabe Bay had provided affidavits to support the three plaintiffs then.
The MCC has been criticised for its waste management and hygiene practices. It has also been closed three times between 2008 and 2009 by Labour Department and the Mineral Resource Authority.
MCC also threatened to pack up and go if this matter continued. Would they really leave now when they have expressed interest to take over the Pacific and when they have already invested millions of kina in Papua New Guinea? Madam Luo's expression of relief in the court room on September 24th indicated she was prepared to go back home.
This court decision to lift the injunction comes at a time when deep sea tailings disposal method is banned in other countries including China. BHP has also decided it will stop its practice of dumping mine wastes in the sea or rivers, however, Highlands Pacific rejoiced in Judge Cannings decision to lift the injunction and MCC happily pronounced it is the safest method of disposing mine tailings.
The arguments have been that DSTP is used by Lihir and was used by Misima. It is easy to believe the written word that all is well in those communities but reality speaks for itself.
Last week the court allowed MCC to construct the tailings system but ordered that the company does not use it until a court decision after the trial next year.
Back in June in the course of this battle, the Papua New Guinea government made amendments to its environmental laws removing rights from indigenous people and giving the green light to large corporations to do what they wish on this land. That gives them the right to dump mine tailings in this country's seas and get away from landowner claims.
Looking back 15 years to Ok Tedi today the Fly River is dead. The Ok Tedi mine is listed as one of the worst environmental disasters. Its former developer BHP has put a stop to riverine dumping of mine tailings but the PNG government will not learn from that experience.
Rosa Koian

GEEJ Pacific and Africa discussions are available at DAWN Informs December 2010 Issue

For more information on GEEJ, click HERE

Visit this PAGE for more resources on DAWN's analyses

Back to HOME