Advocacy and Networking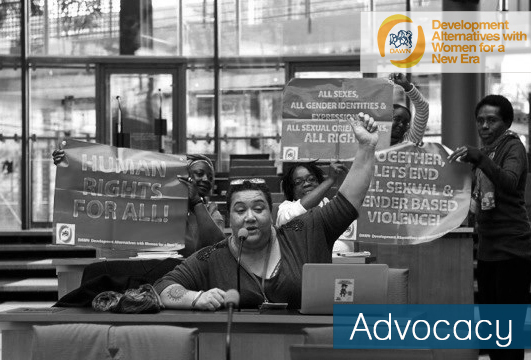 As a network of Southern feminists and activists working for economic and gender justice and political transformation, DAWN's advocacy work both at the global and regional levels are critical. It involves working in partnership with other organisations and networks to reform international institutions, ensure that governments live up to the commitments they made in the conferences, and mainstream gender in NGO advocacy initiatives. Its most sustained advocacy investment has centered on multilateral negotiations especially within the United Nations System. Advocacy initiatives have also been taken on by individuals on the DAWN Executive Committee who were passionate about a particular issue or connected to channels that presented opportunities for advocacy. The high powered reach of many of the DAWN women brought a range of opportunities but also led to constant overlaps and tensions in prioritization, and some amount of unevenness, inconsistency and unpredictability in DAWN's advocacy engagements.
In DAWN's current structure, the Networking Coordinator takes charge of leading and facilitating DAWN's collective process of political direction-setting in order to systematize, streamline and more sharply focus DAWN's global advocacy activities that include producing and disseminating new analyses, engaging in key global processes and meetings, participating in selected institutional reform initiatives, working in partnership with like-minded feminist development organisations and networks, and engaging with global civil society and social movements. At present, DAWN is involved in various campaigns in both global and regional arenas, the foremost of which is the United Nations (New York and Geneve).