DAWN Informs March 2017
Private sector, development agenda and women's human rights: synergies or contradictions?
Corina Rodríguez Enríquez (Argentina)
A very short time ago, the General Assembly granted Observer Status to the International Chamber of Commerce. This means the institution, which represents the interests of the biggest multinational corporations, will be able to sit in every session and even get the chance to speak, far more opportunities than what the civil society has. .
[read >>]
---
Phambili African Unity, but only for a Continental Free Trade Agreement on African peoples own terms
by Hibist Kassa (Ethiopia)
In the aftermath of the 2008 financial crisis, and persistent multiple and interlinked crises deepening poverty and devastating livelihoods, we are witnessing a seismic shift in global politics. A multipolar world with all its uncertainties is taking shape.
[read >>]
---
The feminist path in the Social Forum of Resistances: reflections 16 years after the first World Social Forum
by Florencia Partenio (Argentina) & Celita Eccher (Uruguay)
The World Social Forum (WSF) was born in 2001 in Porto Alegre, in opposition to the Davos World Economic Forum. With echoes in local, national, regional and thematic forums, the WSF quickly became a space for articulation and learning, marked by horizontal, self-managed processes to exchange experiences on global militancy and activism.
[read >>]
---
A Complex Journey: Engaging with Political Restructuring and Social Transformation in Sri Lanka
Kumudini Samuel (Sri Lanka)
An early call for presidential elections in January 2015 served as the impetus to catalyze a wide spectrum of forces, ranging from civil society to cross party political elites, into a coalition that made possible democratic regime change in Sri Lanka.
[read >>]
Photo Gallery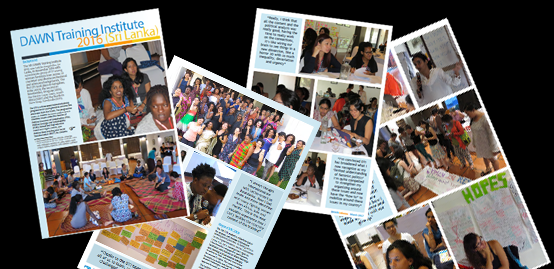 DAWN Alumnae
DAWN's training institutes and meetings have provided tools to many young feminists around the world to apply feminist and interlinkage analysis in their everyday work, which takes place at local, national, regional and global level. In this issue we feature two stories from them:
---
Feminism as a strategy of resistance in spaces of social action
by Fabiola Virginia Morales Ortiz (Guatemala)
[read >>]
---
Renewed alliances between women to fight the HIV and AIDS epidemic
by Gracia Violeta Ross Quiroga (Bolivia) [read >>]
Panel Discussion
The Rise of Illiberal Democracy and Implications for Social Mobilization
Together with Fiji partners, the School of Government, Development and International Affairs (SGDIA) at the University of the South Pacific (USP) and the Pacific Network on Globalisation (PANG), DAWN hosted a panel discussion on The rise of illiberal democracy: implications for social mobilization, in Suva, Fiji on 28th February, 2017. This presented an opportunity to explore global challenges of illiberal democracies with a cross-section of people.
[
read >>
]
Linking Gender, Economic and Ecological Justice: Feminist Perspectives from Latin

America
​

by

Alejandra Santillana Ortiz (Ecuador)
DAWN organized a series of regional and interregional consultations and training institutes on "Strengthening Policy Analysis and Advocacy on Gender, Economic and Ecological Justice (GEEJ)" in the Pacific, Africa, Latin America, Caribbean and in Asia between 2010 to 2014. The GEEJ ebook is one of the outputs. 
[read>>]
---