Special Issue of Global Public Health, Volume 10.2: Sexual and Reproductive Health and Rights for the next decades: What's been achieved? What lies ahead?
This Special Issue takes a fresh look at the evidence from low and middle income countries on progress made towards the sexual and reproductive health and rights (SRHR) agenda, and how this agenda should guide and be integrated into the framing of sustainable development goals (SDGs). The thematic papers and commentaries (from Bangladesh, Brazil, China, India, Middle East & North Africa, Mexico, Nigeria, Philippines and Thailand) marshal relevant data, policy  and program experience, and weigh possible approaches to filling gaps and addressing emerging health and human rights issues in relation to SRHR. In doing so, this volume provides a basis for evidence- based dialogue and debate as countries, donors, civil society and the UN system work towards a consensus on the post 2015 SDGs.
This work was carried out with the aid of a grant from the International Development Research Centre (IDRC) to Development Alternatives with Women for a New Era (DAWN).
Guest Editors:
Gita Sen, Adrienne  Germain, Claudia Garcia-Moreno and Mridula  Shankar
Contributors:
Kaosar Afsana, Babatunde Ahonsi, Maria José Araújo, Judith Bruce, Kamheang Chaturachinda, Jane Cottingham, Simone Diniz, Mahmoud Fathalla, Josefa  Francisco, Claudia Garcia-Moreno, Alexandra Garita, Adrienne Germain, Veloshnee Govender, Sofia Gruskin, Ximena Andión Ibáñez, Pinar Ilkkaracan, Wassana Im-Em, Rounaq Jahan, Shireen Jejeebhoy, Fang Jing, Eszter Kismödi, Laura Laski, Claire Luczon, Alice Miller, Massy Mutumba, KG Santhya, Gita Sen, Mridula Shankar, Rachel Snow, Viroj Tangcharoensathien, Marleen Temmerman, Girija Vaidyanathan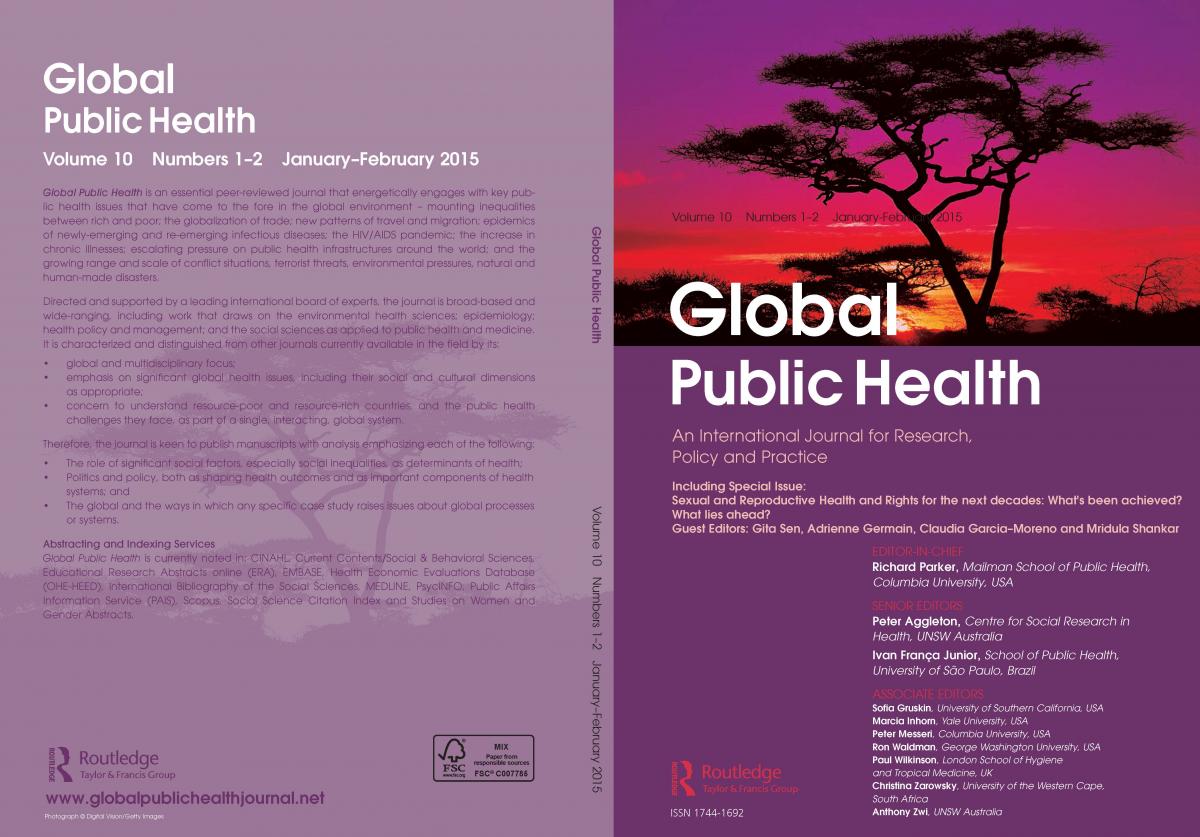 Please click here to access and download the special issue.