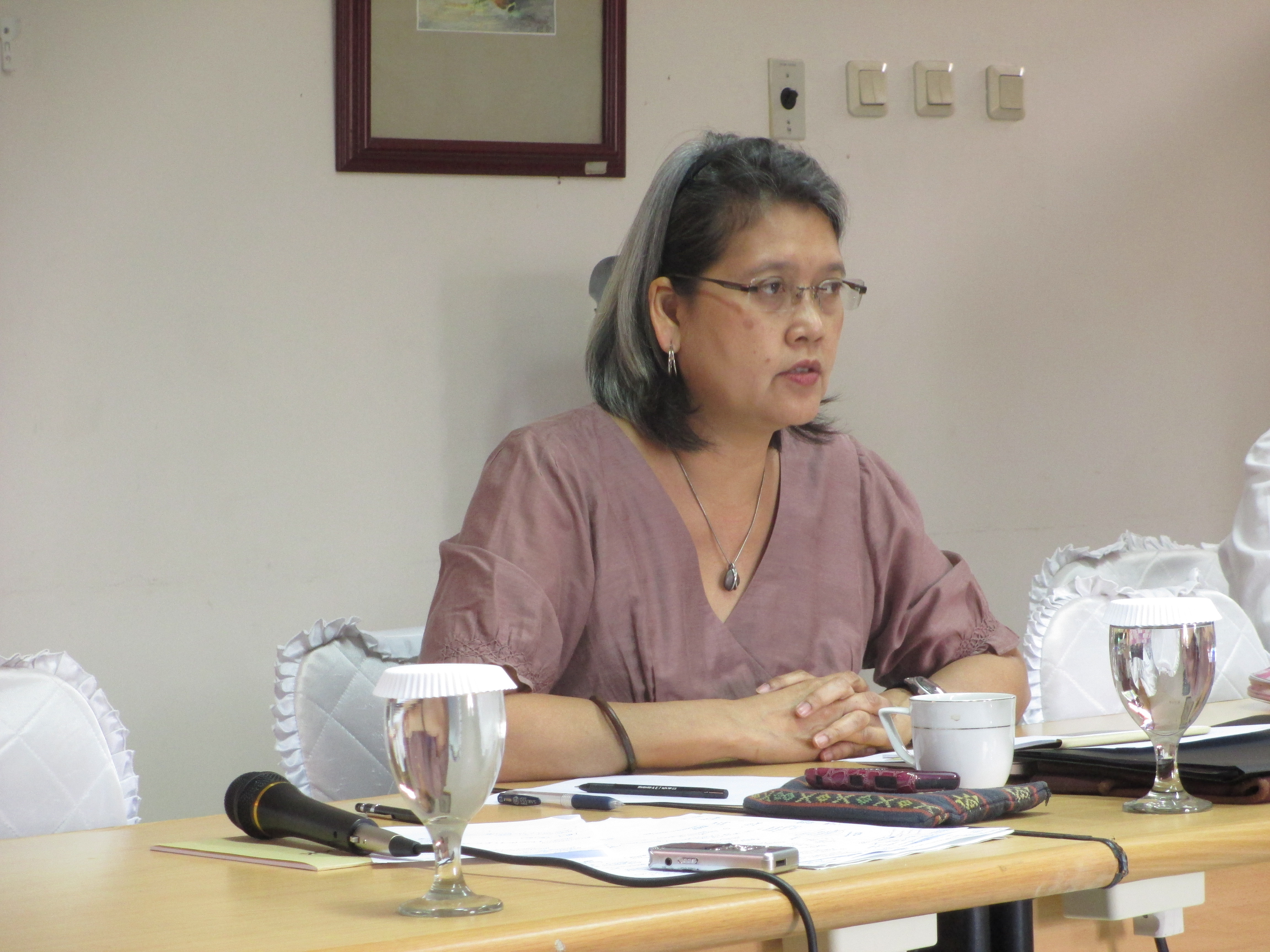 Kamala Chandrakirana, Chair of the UN Working Group on Discrimination Against Women in Law and Practice
Understanding 'Political Transition'
While appreciating that the Working Group "understands political transition in the widest sense of the term, including transitions that involve fundamental change of the political regime and/or of the legal system", participants noted at the outset that political transition does not necessarily mean "…a positive progression from authoritarian to more democratic political systems" but did often "give rise to other forms of authoritarianism."
Also questioned was the perception that political transitions meant an inevitable progression to liberal democracy which was considered as the ideal state for achieving gender equality. Instead participants noted that "the experiences of many countries in Asia and elsewhere however demonstrate that even in representative forms of government, gender equality has lost significance over time and women's voices have become less privileged."
This was a paradox in a world where women currently average 20% in national parliaments and while countries emerging from conflict have achieved averages higher than 30%. These countries have also "achieved most changes in terms of legislative and constitutional reform". Yet, post conflict constitution reform, despite inclusive processes and a high degree of participation, it was noted could not sustain the promise of gender equality and was often insufficient to prevent discriminatory laws and policies.
In addition, "while global trends suggest that women's political representation generally increase in countries in transition, political transitions that have failed to replace authoritarian political systems yielded limited opportunities for women."
A major challenge in the context of political transitions therefore was how to sustain progressive gains made particularly in the adoption of gender sensitive laws and policies and prevent setbacks in implementation. Participants were convinced that the activism of autonomous women's movements was crucial for this purpose since it was this concerted activism rather than women in parliaments that "are key to producing enduring progressive policy changes for women".
It was noted however both as a set back and challenge to the women's movements that "while it was easier to enact rather than repeal laws particularly regarding family, overall there is no change in discriminatory personal law caught in the difficult dynamics of identity politics. Even gender-neutral laws have not been spared from backlash amidst growing conservatism."
In addition participants emphasized that political will was essential to implementation and the insufficient allocation of resources, establishment of adequate infrastructure and increasing bureaucratization were major obstacle to realizing gender equality in law and practice. Continuing patriarchal norms and practices within the political environments, despite ratification of international instruments protecting women's rights also contributed to the resistance to change.
"In political transitions, there is room to define politics as rule making and to empower women to build consensus on rules affecting their lives. This is not about how many laws were passed or the number of women in politics, but concerns active participation of women in the process, with new information shared and new spaces created. Capacity building is crucial; new tools need to be developed based on lessons learned."
Lessons Learned and Ways Forward:
The participants offered the following insights based on lessons learned as possible ways forward in creating alternatives to advance women's political participation:
• Identity politics and re-imagining citizenship to recognize diversity
"The political transitions in the region offer women in Asia opportunities to participate in the construction of a nation-state that values diversity as a cornerstone of citizenship. The theoretical and practical advances of the women's movements in looking at issues of sexuality, sexual rights, racism and xenophobia have presented new language and tools to initiate a different concept of citizenship that acknowledges the centrality of diversity to the survival of the democratic ideal."

• Coalitional politics crucial for successful law reform
While long-term political goals from a very patriarchal sense are dependent on long-term identity formations (e.g., women capitalizing on such identity for a political platform and voice), coalition politics brings to fore the politics of identities in a constructive manner that facilitates a shared agenda behind temporary alliances of identities and interests. Rather than stamping permanence, coalitional politics acknowledges multiple and shifting identities as a reality and builds on the prevailing interests represented around the political platform at a particular moment in time.

Coalitional politics points to other feasible forms of relationships between and among women as well as the 'others'. It challenges the women's movements to redefine relationships: between women from the autonomous movements, those that have remained 'outside' and 'unsullied' by the politics of co-optation and working with the State, and those that have joined the mainstream political arena."
• Rise of religious fundamentalisms and the necessity of the secular state
"The establishment of secularism following political transitions in several countries in Asia appears to be a missed opportunity and this has transformed into a threat with the disturbing rise of religious fundamentalisms in the region."

• The challenges of sustainability through institution-building
"Institution-building has been one of the strategies employed by the women's movements in the contestations over power and resources following the opening of democratic spaces in political transitions… These institutions have added legitimacy to women's human rights advocacy and facilitated women's direct access to the state, mobilizing resources and support. But as they navigate their dual nature as a state agency and an entity that relates its accountability to the women's movements, these institutions have become precarious and vulnerable to contestations, within the government and outside.
As 'para-statal' institutions caught between political forces beyond their control, such women's institutions have to walk the tightrope of working with government and engaging in 'state-speak' to secure funding and resources essential to sustain the discursive spaces necessary to advance a feminist agenda; at the same time sustain constituents in the women's movements necessary to defend the institutions amidst threats of closure from political forces in power that do not find value in their existence.
Recommendations: Pathways for Future Agenda
In the course of the two-day discussions, participants identified critical issues and possible was forward to influence future agendas.
There were:
• Continue to convene collective stocktaking within the women's movements
• Develop a methodology and process for documenting good practices
• Review the architecture of the human rights system as a monitoring mechanism for women's human rights
• Strengthen women's funds as an
intermediary to funding women's initiatives
• Promote an ethical regime on development cooperation to encompass new donors
………….
The UN Working Group on Discrimination against Women in Law and Practice is scheduled to hold a Side Event at the CSW on how the Mechanism works and how it can be used. This will be at the UN Conference Room D on 13th March from 10.00 a.m. to 11.15 am.